Clare's retablos are original paintings, generally water color on pine, and range in size from 8×10 to 13×23.  Reproductions can be purchased on tin (approx. 4″x7″) or  on pine (approx. 7″x14″)
San Augustín of Hippo
Preeminent Church Theologian from 200-1200 AD;
Patron of Theologians, Brewers and Printers.
Feast day: August 28
Santa Ana

Patroness of Grandparents, Housewives, Horsewomen, Cabinet Makers.
Feast day: July 26
San Andrés
Patron of Fishermen, Sailors, Greece, Russia, Scotland; Invoked against Gout and Neck Problems.
Feast day: November 30
Santa Angela Merici
Patroness of Teachers; Foundress of the Ursaline
Order, the First Order of Teaching Nuns.
Feast day: January 27
Santa Apolonia
Patroness of Dentists; Invoked against Toothaches.
Feast day: February 9
San Antonio de Padua
Patron of Harvests, the Poor, Spinsters; Invoked against Infertility and by Those Looking for Lost Objects.
Feast day: June 13
San Antonio de Fauci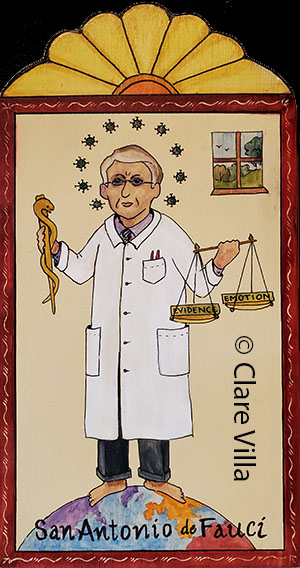 Patron of those suffering from viral infections
Click here for symbolism and other info.
Feast Day: December 24th
As a Covid-19 fundraiser for the Navajo Nation, the retablo "San Antonio de Fauci" can be purchased on Etsy: NMRetablosByClare
Santa Bárbara
Patroness of Firefighters; Invoked against Fire and Electrical Storms.
Feast day: December 4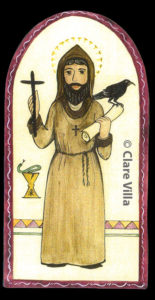 San Benito

Patron of Architects, the Dying, Europe, Farm Workers, Monks, Servants, Spelunkers.
Feast day: July 11
Santa Bernadeta
con Nuestra Señora de Lordes
Patroness of Shepherdesses
Feast day: April 16
Santa Blandina Segale, SC
Sister of Charity, Candidate for Sainthood.
Missionary to the Arizona and New Mexico. Territories in the late 19th century.
Feast day: tbd
Nuestra Señora del Carmen
(Our lady of Mt. Carmel)
Patroness of souls in Purgatory.
Feast day: July 18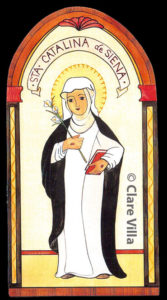 Santa Catalina de Siena

Patroness of Italy, Philosophy, Nurses, the Dying and Hospice Workers.
Feast day: April 29
Santa Cecilia
Patroness of Music, Musicians, Singers, and Composers.

Feast day: November 22
Santa Clara de Asís
Patroness of Seamstresses, Optometrists, Television; Invoked against Eye Ailments.
Feast day: August 11
La Conquistadora
Carbon dating places her origin at 1400 AD. Brought to Santa Fe from Spain in 1625 by Fr. Alfonso Benavides.
Episcopal Coronation in 1954 declared her the oldest Marian image in the U.S.
El Corazón Inmaculado de Santa María
Immaculate Heart of Mary
El Corazón Sagrado del Señor Jesucristo
The Sacred Heart of Jesus
Santa Cristina
 (Cristina the Astonishing)

Patroness of Psychiatrists.

Feast day: July 24
San Cristóbal
Patron of Travelers, Truck Drivers, Police Officers, Skiers.
Feast day: July 25
Christ and the Woman at the Well

John, Ch. 4 vs 5-30.