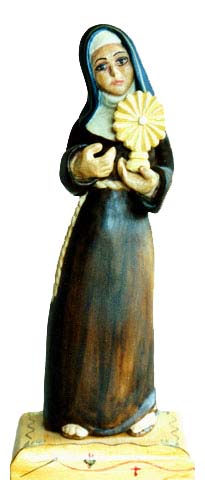 The culture, landscape and light quality of northern New Mexico are the main interests of artist Clare Cresap Villa, who works in a large range of mediums to explore these interests.Born in the midwest and raised in Clovis, New Mexico, Clare earned a Bachelor's Degree in Art from Loretto Heights College in Denver, Colorado, in 1955. Shortly afterwards she married her high school sweetheart, José Villa, and took a 25-year sabbatical from art to raise their eight children.
In the early 80's, while the family lived in northern California, Clare began to renew her art interest by studying and painting in the Santa Cruz area. Since then she has worked in oil, acrylic, charcoal, watercolor (both transparent and opaque), intaglio print-making, silkscreen and serigraphy, calligraphy, tinwork, descansos, santos (retablos, bultos, reredos), and Spanish Colonial Furniture making.
Also in the early 80's the Villa family acquired a century-old adobe ruin located in La Villita, NM, a small community just north of San Juan Pueblo, and began the arduous job of restoring it. Every summer thereafter found José, Clare and various members of their family and friends working on the restoration project, until the couple retired in 1992 and moved back to New Mexico permanently.
With paintings, serigraphs, etchings, woodwork and furniture in private and corporate collections in 13 states, Clare's work has earned awards in both California and New Mexico. "If you really want to participate in the arts," she urges, "it's never too late to start. There's a whole new world of adventure and excitement out there just waiting to welcome you."
Clare's artistic endeavor, "retrofitting" St. Anne's church in Alcalde with Spanish Colonial Art furniture and fixtures, came as a result of her studies in the Spanish Colonial Furniture Department of Northern New Mexico Community College's El Rito campus.