Clare's retablos are original paintings, generally watercolor on pine, and range in size from 8×10 to 13×23.  Reproductions can be purchased on tin (approx. 4″x7″) or  on pine (approx. 7″x14″).
San Nicolas Obispo
Patron of bakers, brewers, brides, children, dockworkers, fishermen, pawn brokers, prisoners, Russia, sailors, travelers
Feast day: December 6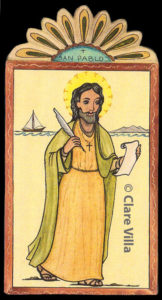 San Pablo
St. Paul, Apostle and Evangelist
Patron of Greece, Malta, rope makers, tent makers and upholsters
Feast day: June 29
San Padre Pio
Patron of making a good confession
Feast day: September 23
San Pascual
Patron of sheep, shepherds, cooks, and kitchens.
Feast day: May 17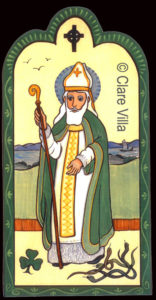 San Patricio
Patron Saint of Ireland
Invoked against snakes.
San Pedro
Patron of fishermen, net makers, clock makers; invoked against fever, foot trouble and wolves.
Feast day: June 29
San Peregrino Laziosi
Invoked against cancer.
Feast day: May 1
La Pieta
13th Station of the cross
Jesus is laid in the arms of his sorrowing mother
San Rafael, Arcángel
Patroness of druggists, health inspectors, lovers, travelers and young people leaving home; invoked against blindness.
Feast day: October 24
San Ramon Nonato
Patron of pregnant women, the unborn; invoked against curses and slander.
Feast day: August 31
Santo Niño de Atocha
Patron of children, the sick, prisoners, travelers, victims of crippling diseases
Feast day: Christmas
Santa Rita de Casia
Patroness of desperate cases, abused women; invoked against spousal infidelity.
Feast day: May 22
Santa Rosa de Lima
First Saint of the Americas
Patroness of Peru, Florists and gardeners.
Feast day: August 23
San Simon el Cirineo
Simon of Cyrene helps Jesus carry his cross
Holy week at El Santuario in Chimayo, New Mexico
Santa Teresa de Avila
First Woman Doctor of the Church
Invoked against headaches and heart disease.
Feast day: October 15
Santa Teresa Benedicta de la Cruz
Philosopher, spiritual writer, convert from Judaism;
Patroness of University Professors
Feast day: August 9
Santa Teresa del Niño Jesús
(The Little Flower)
Patroness of florists, pilots, foreign missions, France.
Feast day: October 1
Santiago Apostal
St. James the Apostal
Patron of Veterinarians, Horsemen, laborers. Invoked against arthritis and rheumatism
Feast day: July 25
San Tomas Apostal
Patron of architects, builders,construction workers, carpenters, geometricians, masons and surveyors
Feast day: July 3
San Valentín
Patron of lovers, engaged couples
Invoked against blindness, epilepsy.
Feast day: February 14
Santa Veronica
Patroness of laundries and laundresses
Feast day: July 12
San Vicente
(The Little Flower)
Patroness of charities, grape growers and vinters.
Feast day: April 5
San Xavier
(St Francis Xavier)
One of 8 original Jesuits; considered the greatest missionary since St. Paul.
Feast day: December 3